Quantico Memorial History
MONUMENTS AND MEMORIES
(FOR THOSE WHO NEVER CAME HOME)
by Robert A. Gannon
SOME PEOPLE SAY I SHOULD NOT WASTE
THE HOURS OF MY LIFE
ON MONUMENTS AND MEMORIES
RECALLING TIMES OF STRIFE
THEY SEEM TO THINK IT ONLY IS
NAME UPON A STONE
WHILE I REFLECT THAT EASILY
THAT NAME COULD BE MY OWN
SHOULD I FORGET THOSE MEN I KNEW
HO STOOD AND FELL BY ME?
SHOULD I FORGET THOSE TORRID ISLES
UPON THAT SULTRY SEA?
SHOULD I FORGET THAT SMILING LAD
FROM ARIZONA'S PLAIN
WHO FOUGHT ALONGSIDE ME
THOUGH WOUNDED AND IN PAIN?
OR SHOULD I JUST FORGET ABOUT
THAT CORPSMAN STANDING FAST
WHO PUT HIS BODY OVER MINE
AND TOOK THAT MORTAR BLAST?
SHOULD I FORGET THOSE COUNTLESS MEN
WHO WADED INTO SHORE
AND GAVE THEIR LIVES DEFENDING
MY COUNTRY AND MY CORPS?
I CAN'T FORGET ONE SINGLE NAME
THOSE MEN ARE WITH ME STILL
IF I DON'T REMEMBER THEM
I ASK YOU THEN, WHO WILL?
Quantico National Cemetery Historical Information
Quantico National Cemetery is located on land that was part of the U.S. Marine Corps training base adjacent to Quantico in Prince William County, Va. The land has been used by the military for over 200 years. First, around 1775 by the Commonwealth of Virginia for Navy operations, and later, as a blockade point for the Confederate army during the Civil War.
In 1918 a permanent Marine base was established at Quantico. The Marine Corps Schools, a forerunner of the Marine Corps Development and Education Command, was created there in 1921. Since 1941, the focus of the base has been individual education rather than unit training. In 1977, the Marine Corps donated 725 acres of this land to the VA's National Cemetery Administration, to establish a facility at Quantico. The cemetery was formally dedicated on May 15, 1983.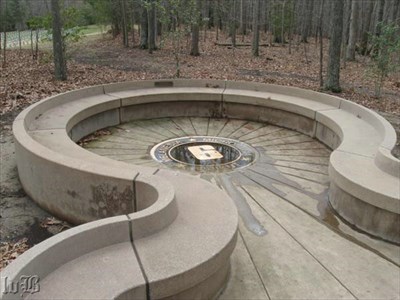 Monuments and Memorials
There are nine memorials in all. A monument to Edson's Raiders was the first memorial dedicated at Quantico National Cemetery, unveiled on the memorial pathway on Aug. 6, 1989. It is dedicated to the 800 members of the First Marine Raider Battalion, which from August 1942 to October 1943, played a key role in helping the greatly outnumbered American forces push back Japanese troops in the Brigit Solomon Islands.
The Purple Heart Memorial was dedicated Aug. 7, 1990, in honor of Purple Heart medal recipients interred at the cemetery. The Purple Heart was created by George Washington in 1782 and was originally awarded for heroism. It eventually fell into disuse until 1931 when Gen. Douglas MacArthur revived it for soldiers who were wounded or killed in defense of their nation.
Additional memorials honor: Colonel William "Rich" Higgins, Marine Corps, who was captured and held hostage in Lebanon by pro-Iranian Hezbollah terrorists; the Fourth Marine or "Fighting Fourth" Division; the Commonwealth of Virginia Memorial dedicated to honor all of the nation's veterans; the First Marine Division Memorial, in memory of those who lost their lives while serving with the 1st Marine Division; and the 6th Marine Division or "Striking Sixth" Memorial to honor the division that won the Presidential Unit Citation for its actions in Okinawa during World War II. The memorial design is based on a Japanese tomb. The 6th Marine Division Presidential Unit Citation, unveiled on April 14, 2000, for its distinguished "Service Second to None" on Okinawa during World War II. The Order of the Purple Heart memorial was donated by Veterans of Foreign Wars Post 1503. Dedicated on Memorial Day, May 25, 2009.