Lorenzo Forgit
Semper Fi Les
Dedicated in honor of a wonderful man who I had the honor and privledge to know. Thank you for your service and being a dear friend. You are truly a precious part of the Greatest Generation.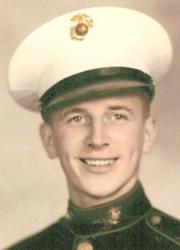 Company "L" 3rd Battalion-Twenty-Ninth Marines
Sixth Marine Division
Field Music First Class
Lorenzo L. "Lester" Forgit, 91

Spencer - Lorenzo L. "Lester" Forgit, 91, of Main Street and formerly of Rochdale died Thursday, May 19th.

He leaves his wife of 67 years, Lorraine A. (Sorel) Forgit, 3 sons; Lester A. Forgit and his wife Susan of Worcester, Lawrence J. Forgit and his wife Claudia of North Brookfield and Lance E. Forgit and his wife Cindy of Sturbridge, 4 daughters; Linda Stanley and her husband Alden of Spencer, Louise Small and her husband Ed of Spencer, Lucille Newton and her husband Andrew of East Brookfield and Lisa Chaffee and her husband Herb of Brookfield, a brother Raymond Forgit of Orrs Island, ME, 18 grandchildren, 14 great-grandchildren and many nieces and nephews. He was predeceased by 2 brothers; Arthur Forgit and Rev. Ambrose Forgit.

Mr. Forgit was born in Thompson, CT, son of Arthur J. and Alice E. (Wellington) Forgit. He worked at Wyman Gordon Co. in Worcester as a die sinker for 44 years retiring in 1986. He proudly served his country during World War II, first as a seaman in the Merchant Marines, then for two years in the U.S. Marine Corps. He was a member of the Worcester Men of Song. He enjoyed going to yard sales and tinkering around the house fixing things. He loved music and played the harmonica.

The funeral will be held Monday, May 23rd from J. HENRI MORIN & SON FUNERAL HOME, 23 Maple Terr., Spencer with a Mass at 10:30 AM in St. John the Baptist Church, North Brookfield Rd., East Brookfield. Burial with Military Honors will follow in Worcester County Memorial Park, Paxton. A calling hour will precede the funeral from 9:00-10:00 AM in the funeral home. In lieu of flowers memorial donations may be made to Sacred Heart Provincial Office, 77 Adams Street, Fairhaven, MA 02719. -

Of all the military calls, none is so easliy recognized or more apt to evoke emotion than the call Taps. The melody is both eloquent and haunting and the history of its orgin is interesting and somewhat clouded in controversy. In the British Army, a similary type call known as Lost Post has been sounded over solider's graves since 1885, but the use of Taps is unique to the United States military, since the call is sounded at funerals, wreath-layin and memorial services.
Taps began as a revision for the signal of Extinguish Lights (Lights Out) at the end of the day. Up until the Civil War, the infantry call for Extinguish Lights was the printed in Silas Casey's (1801-1882) Infantry Tactics and other manuals, the music which had been borrowed from the French. The music for Taps was adapted by Union General Daniel Butterfield for his brigade (Third Brigade, First Division, Fifth Army Corps, Army of the Potomac) in July, 1862.
Daniel Adams Butterfield (1831-1901) was born in Utica, New York and graduated from Union College at Schenectady. He was the eastern superintendent of the American Express Company in New York when the Civil War broke out. A Colonel in the 12th Regiment of the New York State Militia, he was promoted to Brigadier General and given command of a brigade of the 5th Corps of the Army of the Potomac.
During the Peninsular Campaign Butterfield distinguished himself when, during the Battle of Gaines Mill and despite an injury, he seized the colors of the 83rd Pennsylvania and rallied the regiment at a critical time in the battle. He was awarded the Medal of Honor for that act of heroism.
As the story goes, General Butterfield was not pleased with the call for Extinguish Lights, feeling that the call was too formal to signal the days end, and with the help of the brigade bugler, Oliver Willcox Norton (1839-1920), wrote Taps to honor his men while in camp at Harrison's Landing, Virginia, following the Seven Days battle. These battles took place during the Peninsular Campaign of 1862. The new call, sounded that night in July, 1862, soon spread to other units of the Union Army and was reportedly also used by the Confederates. Taps was made an official bugle call after the war.